Review of Alexandra York's Crosspoints
<!— HERO IMAGE (OPTIONAL) —>
<!— MAIN TEXT CONTENT —>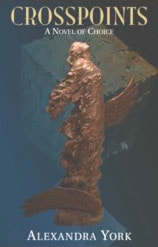 CROSSPOINTS: A Novel of Choice, by Alexandra York, is the novel we have been waiting for! This great 21st century Romantic tale espouses all the artistic and cultural values that ARC stands for and weaves these astute concepts naturally into its intriguing and exhilarating plot. In the process of spinning her "love story for thinking people," Ms. York takes us to the very heart of New York City's art scene with keen insights into the politics of the established art world of today. Do not miss this book!
In her first work of fiction, CROSSPOINTS: A Novel of Choice, Alexandra York has written the perfect contemporary Romantic novel. By skillfully using the conflicts found in a classic love triangle, whose participants are strong and memorable characters, she is able to bring to life the tensions and conflicts of the society and culture in which we live today. This creates the opportunity to meld the excitement of a passionate romance with the seriousness of critical literature. York takes hold of this opportunity and succeeds. Her characters become the embodiment of the varied and real cultural and spiritual upheavals, disillusionments, corruptions and pressures that weigh upon our world. Out of the conflicts of her characters rise the conflicts of our time, and we find ourselves examining and questioning the established norms of aesthetic and social behavior with the same passion as the author. Like all of us in real life, her characters must make choices, and these choices will help them grow, succeed or fail.
York makes it clear that in order to make responsible choices, we must use reason and honest feeling tempered with the guidance of life-affirming and life-respecting ideals. This is the ultimate way in which to achieve self-actualization and maturity. CROSSPOINTS' three main characters — Leon Skillman, a dashing American sculptor; Tara Niforous, a Greek-American woman archaeologist; and Dimitrios Kokonas, a Greek nautical museum head — struggle fully with this concept. The author keeps us mesmerized with their internal struggles, while entertaining us with some of the best love scenes I have ever read.
And so the novel becomes an emotional "thriller" about who will win Tara and whom Tara will choose. The reader is kept guessing until the end and, in the process, is taken on a journey of ideas that question the very soul of America's present cultural value system, including obsessions with money, fame, art (and non-art), mysticism, emotionalism, sex and "quick-fix" thrills. This book is bound to create controversy!
From the beauty of Greece, during which the author impresses us with her knowledge of Greek art and history, the novel takes us to the glamorous art world of New York City, where the drama continues to gain momentum and never lets us down. There is a cast of supporting characters-socialites, painters, art critics and dealers, parents and rebellious teenagers, among others — that add to the storyline by highlighting, contrasting or reinforcing the conflicts of our principal players. They have intrigues of their own. Through natural dialogue CROSSPOINTS' characters make some of the most poignant and witty comments on our contemporary culture and spirit, to date. We are made witness to callousness, shallowness, and also depth of genuine feeling. We experience the glitzy, political world of the established art scene and tender moments of romantic love or family life. York engages us in the full gamut of human experience in this compelling story, written with a contemporary Romantic bravado, where we come to believe that anything is possible — even self-love, personal evolution and the mature love of another. For CROSSPOINTS is not only a sophisticated and sexy adventure, it is at heart a story about the transforming power of living one's life with ideals, ideals that offer us purpose, thoughtfulness and passion all at once. And how can we not help but be seduced by a story that offers so much hope?
About the Author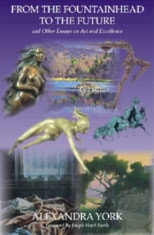 Writer-lecturer Alexandra York is an internationally published author of nonfiction books, magazine and newspaper articles, book and movie reviews, poetry and essays. Her work has appeared in publications as varied as Reader's Digest, Vogue, USA Today, The Intellectual Activist, American Arts Quarterly, American Artist, Imprimus and Vital Speeches of the Day . She has also written/hosted TV and network radio shows and curated/ produced major art exhibits. Former Editor of ART Ideas, she has written exclusively on art and the culture for over a decade and is founding president of American Renaissance for the Twenty-first Century (ART), a New-York-based nonprofit arts foundation. She is the author of the critically praised book FROM THE FOUNTAINHEAD TO THE FUTURE and Other Essays on Art and Excellence, and she lives with her husband in New York City, Vermont and Pennsylvania.
Borders Books Endorsement
For well over half a century there has been nothing new in literature to rival the sheer aesthetic wonder of Ayn Rand's classic novel THE FOUNTAINHEAD. Until now. Alexandra York's CROSSPOINTS follows the grand Romantic tradition and expands upon it with a profound work ... a novel so rich and dense in both characterization and plotting that its depths are truly astounding. In viewing the love triangle of the main characters we are also presented with searing portraits of everything from contemporary New York's 'post-modern' art world to classical Greek antiquities, from wild scenes of sexual abandon to those of touching family life, from the luxurious dwellings of the super-rich to the plain studios of working artists. This is decidedly a novel of ideas-a novel of conflicting values and philosophies, yet it is also an exciting and entertaining story of larger-than-life characters making crucial real-life choices in exotic settings.
— Bill Danks, Borders Books
---
CROSSPOINTS
A Novel of Choice
By Alexandra York

Promethena Press, New York , January 2004
Trade Soft cover: $24.95; 446 pages, ISBN: 1-4134-1895-3
Cloth hardcover: $34.95; 446 pages, ISBN: 1-4234-1896-1

CROSSPOINTS: A Novel of Choice is available now at your local bookstore, Amazon.com, Borders.com and Barnes&Noble.com, or click here: www.ART-21.org to purchase AUTHOR-SIGNED copies from American Renaissance for the Twenty-first Century (ART) at a 15% discount. SPECIAL FOR ARC READERS ONLY: FIRST 100 ORDERS WILL RECEIVE A FREE COPY OF FROM THE FOUNTAIHEAD TO THE FUTURE and Other Essays on Art and Excellence (a $14 value). BE SURE TO MENTION ARC IN YOUR ORDER TO ART AND PLEASE ADD $3 EXTRA FOR POSTAGE.