Alma-Tadema's The Finding of Moses set a world record today on several fronts.
Sold for USD $35,922,000 ($32,000,000 hammer price)
The Finding of Moses, one of Sir Lawrence Alma-Tadema's greatest works, sold for the record smashing price of $35,922,000 this past November 4 at Sotheby's New York.
Estimated at $3,000,000 to $5,000,000 which everyone thought was aggressive, since only two 19th Century European paintings have ever sold that high:
The fate of this painting is a tale sure to intrigue everyone who loves Tadema or hearing about successful treasure hunts.
Originally sold by the artist for £5250 in 1905 to John Aird (1833-1911) the head engineer responsible for designing the Aswan Dam in Egypt. Aird's daughter sat for the figure or Pharaoh's daughter whose image lead to choosing Claudette Colbert to play that role in the 1920's movie The Sign of the Cross, a biblical epic by Cecil B. De Mille.
Claudette Colbert as Empress Poppaea in
Cecil B. Demille's the Sign of the Cross (1923)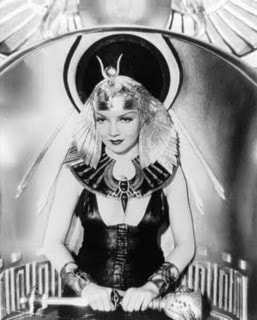 By 1935 Aird's family sold the painting to a mere £820. But it continued to drop in value.
The following was verified by Dr. Vern Swanson, universally accepted world expert on Alma-Tadema, who was told the story by the Director of M. Newman, a major London dealer (no longer in business) who owned the painting around 1960.
There is a legend about this painting which has been passed around for a number of years, which is contested by one of the prominent dealers in London, so this part should be taken with a salt shaker at the ready.
Some time in the late 1950's an English professor in London was walking through the gallery district and passed a narrow alley lined with garbage cans. Out of the corner of his eye he noticed what looked to be a fine painting sitting outside with the trash. So he ran into the dealer, thinking he was doing a good deed, and told the proprietor that he must have accidentally forgotten a painting out in the alley.
The dealer thanked him for his attention, but explained that it was a terrible out of fashion trite piece of garbage that nobody would want and that they had purchased it for its frame which they said was quite beautiful. So this educator asked if the dealer minded if he were to take it home. They said, "Of course not ... you're saving us on our garbage bill," was the welcome response.
That painting was later found to be the subject of this narrative, Finding of Moses by Sir Lawrence Alma-Tadema.
I don't know what happened to it just after that or how many hands through which it ultimately passed, but we do know that in the mid 1960's it was purchased by Allan Funt of the well-remembered Candid Camera TV show. Funt paid roughly $7,000, and it joined his Tadema collection where eventually he amassed 32 works. This was certainly the most important item.
Then in 1972 and 73 Funt's business advisor, to whom he had given power of attorney, deftly embezzled nearly all of his wealth and he was forced to sell the entire collection at auction. It first hung for several weeks at the Metropolitan Museum in Manhattan and was then sold at auction.
The Finding of Moses sold for $50,000 the highest price paid for any of the 32 works which brought $500,000 in total.
Then in 1995 it was resold at Christie's for $2,750,000 which remained the highest price ever paid for any work by Alma-Tadema ... that is until today.
Today all the records were broken and what we've been projecting would happen actually started to happen in this market. As the bidding started 7 or 8 bidders were all vying to get into the action, until a level of roughly $9,000,000 was achieved. From that point it seemed that all but two people dropped out after which bidding continued more slowly wending its way up to $24,000,000 when one of the last two bidders dropped out.
Going, once.
Going, twice.
Is there any further advance?
It's against all of you in the room.
And then a second before it was hammered down by Ben Doller, one of Sotheby's most talented auctioneers and in-house expert on this period, Vice Chairman of Sotheby's.
Suddenly we all heard Ben say "$24,500,000 from a new bidder." There was a gasp in the room. The bidding then continued more slowly still up to $29,000,000 when the fellow who dropped out came back in and then the three hopeful collectors continued slugging it out until The Finding of Moses was finally hammered down at $32,000,000 plus premium which was another $3,922,000 in commissions for the British auction house ... thus totaling $35,922,000.
1

Highest price ever for a work by Alma-Tadema.

2

Highest price ever for any work sold in the 19th century European painting department in New York.

3

Highest price ever for any work sold in any 19th century European painting department at any auction house worldwide.

4

Highest price ever for a non-Impressionist painting worldwide.

5

Highest price ever for an auction of 19th Century art totaling $61,537,000.

6

And many other artist specific records were broken.
Then it seemed just to prove even more-so that this was a true "market shifting event" ... A portrait of a beautiful young woman by Giovannni Boldini sold for $6,578,000.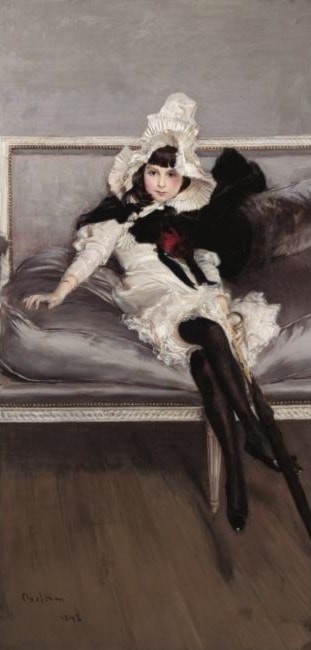 This Boldini was not only the second highest price in this sale, but it was a world record for Boldini, and the third highest price ever paid for any 19th Century European painting.
The sale had only 80 lots but anything of quality sold and sold well. Boldini sold for $2,098,000. There were three William Bouguereau paintings, all of which were of mediocre quality ... for him.
$1,098,000 for a mother and child; $1,314,000 for a girl playing with a crab in the sand; and $494,500 for a very dirty oil of a little girl listening to the sounds in a sea shell. Covered with cracks this last Bouguereau failed to sell recently and was estimated to sell for only $150,000 to $200,000.
All three went far higher than they would have 3 years ago at the top of the market. They sold for what masterpieces would have sold for all the way far back in 2006 and 2007. Two fine Godwards sold well: A round life-size work for $746,000 and a jewel cabinet painting of a woman in a courtyard wearing a crimson red roman dress ... (see images below).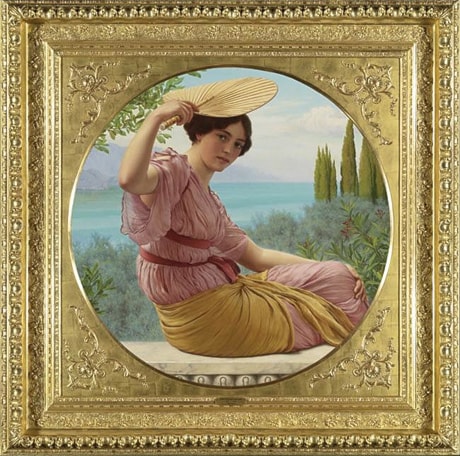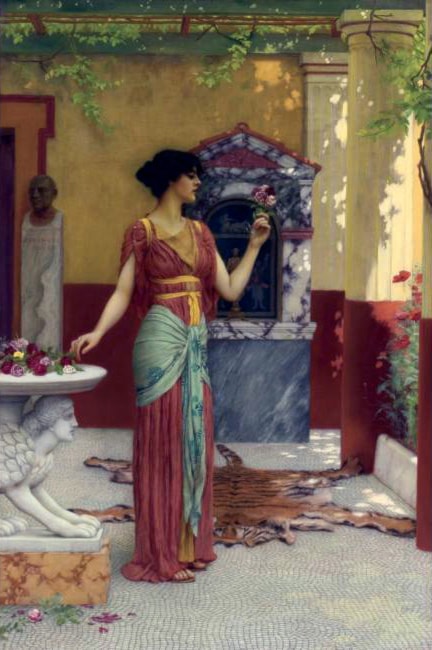 Finally an exquisite Jean Beraud sold for just under $1,500,000 (see below).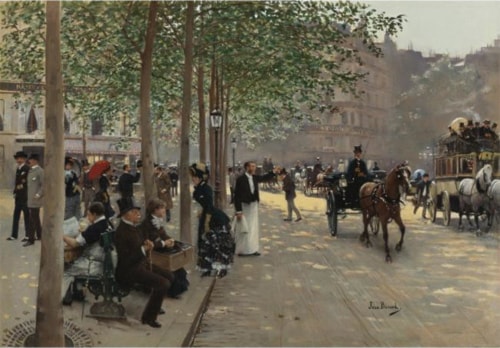 All in all it was great fun for everyone involved. Everyone started to applaud spontaneously when the Tadema was finally hammered down.